As the European Tour becomes more global by the year, Florian Fritsch retained his card this year by playing just 12 events and not getting on a plane.
In terms of arranging an interview with a European Tour player, getting in touch with Florian Fritsch was just about as straightforward as it gets – "Happy to chat. I am on the road for the next two days so feel free to call anytime."
Not the usual rigmarole of "ring at this precise time when I won't pick up the phone and we can then talk for half the agreed time". Just a simple call whenever, and we can chat then.
Fritch is on his way back from the Portugal Masters and is halfway up Spain when we speak. He spends a lot of time in his car as he doesn't, to put it mildly, much care for flying. So much so that he never flies any more.
While all those around him on the Race to Dubai have played around 25-30 tournaments in a bid to retain their playing privileges, the German only started 12 events this year.
Given the way the European Tour looks these days, Fritsch's season only got going in May and, while there were plenty of made cuts, he looked like losing his card. And then everything came together in a seven-week spell where he commuted from Switzerland to Holland, to Germany, to St Andrews, to Watford and finally the Algarve. In that period, he racked up three top 10s, earned something like €240,000 and finished 101st on the money list.
And no airports, no checking in and no anxieties.
When did the fear of flying first show itself?
In 2005, I was on a flight from Frankfurt to Turin and suddenly the plane started rocking like it never had before when we were over the Alps. Before that I would fly like people take buses, it was the most normal thing to do. I was sat next to my national coach and I asked him if anything was to happen, what would it be like. He said, if something happened, then it would happen very quickly. From that moment on I started to think about what I was sitting in and then the fear developed over time. Eventually, it turned into discomfort, then into fear and then whatever you want to call it now. In 2010, it got so bad that I decided to quit golf, which I did for a year.
I despise flying with a passion so spent 10 years of my life having to either get very pissed or take tranquilisers. I take it you tried these options…
I would drink a lot and that didn't work. I tried sleeping pills and they didn't work. In 2011, I had some drugs which were classified as putting people to sleep for an operation when they are afraid of needles, they are as strong as an anaesthetic. On a flight from Cork to London after the Irish Open, I popped two of those pills and still stayed awake. It was quite amazing how adrenaline could override those pills.
It was too harsh a measure just to play golf and it was out of proportion to do this a lot of the weeks of the year.
At least most of us know when we're going to have to fly, as well as doing it lots of weeks of the year, a missed cut would mean another flight. How much would it play on your mind?
Initially it would start off at the gate, then it would be arriving at the airport and then it got worse and worse and would get to the point where I would feel bad three weeks prior to the flight.
It was kind of a depressive feeling, I would be very downbeat and grumpy, easily agitated and not nice to be around. On my last flight in 2013, someone asked me what it feels like to fly. I said it was like someone pointing a gun and playing Russian Roulette with me and I was waiting for the gun to click.
It was killing my quality of life too much. When I played back-to-back tournaments I would just be in that state non-stop.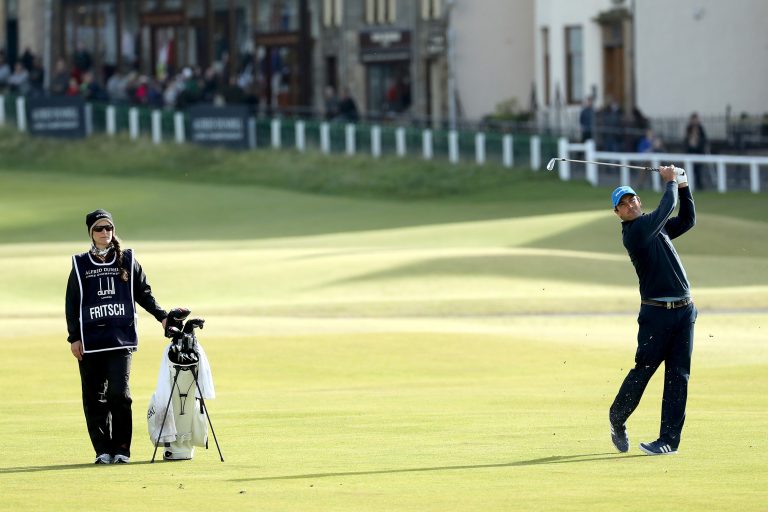 Are long hauls any better, less claustrophobic?
It would be on any flight, it didn't matter. I did one flight from Frankfurt to Dusseldorf which was 25 minutes and even that one was bad. I can always handle the landing and take-off, if the plane flew at 5,000 feet I would probably be fine. I'm sure my fear has an element of a fear of heights but it's not solely that.
Do you think it's a phobia?
It's very unfair that they classify a fear of flying as a phobia. I'm a novice but I would say a phobia is an over-reaction to a standard situation and, to me, to consider sitting in a tube for multiple hours, travelling at 600mph at a height of 37,000 feet is not a standard situation. So therefore I find that a bit misleading.
There are a lot of stats about but around 40-70 per cent of people sitting on a plane will feel like you and me, so we are in the majority.
People talk about the lack of control, but think about other modes of transport like trains, trams, buses or anything. You give up control but people aren't as afraid of these.
People say driving is still dangerous and a car is 16 times more dangerous than flying. That figure sounds really high but flying might be 0.00000001 per cent mortality rate, so 0.000000016 driving sounds OK.
Colin Montgomerie is a renowned bad flyer, how common is it on Tour?
Ever since I came out with my issue and spoke quite openly two or three players have approached me about their discomfort, but they won't talk about it as they are afraid of losing sponsorship.
How many miles a year do you drive?
I also played eight Challenge Tour events so about 24 events in total and so far, I am at 25,000 miles. It is not as much as people think, people who do that level of mileage will spend more time in the car than I do as I drive on the motorway/highway the whole time. My average speed is twice as high, so they spend twice as long in the car as me.
What are your favourite places to drive in Europe?
Anywhere where there is a toll, as that means less cars, I can put it in cruise control on and just drive and that is very nice. Any country that has free roads is horrible as everyone is on the motorway and it is very congested. I have found that the UK is congested between Manchester and London and everything else is great.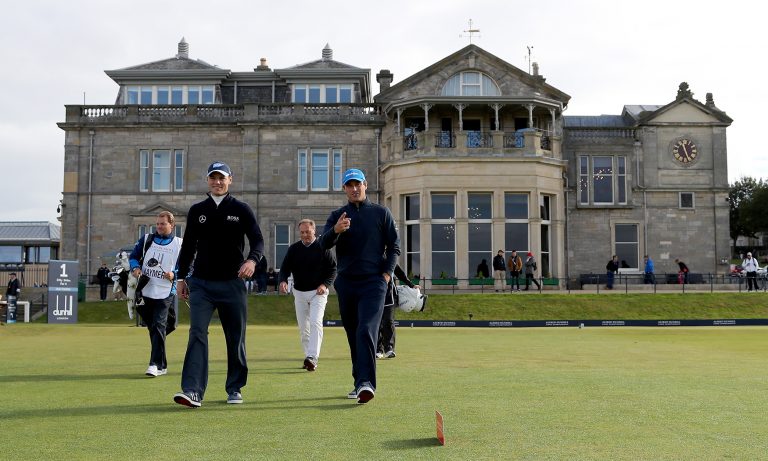 How do you fill your time?
I call a lot of people, when I get in the car my friends now all turn off their phones! Mostly I enjoy some silence and the time to myself. It's nice to catch up on your own thoughts and your own world, as it is easy to always be distracted by the world around you.
I am on the way to Bonmont GC, between Castellon and Barcelona, as I picked up some Mizuno wedges at the British Masters and a German player is at the second stage and asked me to bring them.
Another caddy asked me to take a driver home for him and you might have caddies and players getting a lift as I might be passing through cities where they live or fly out of – so a lot of people depend on me.
Does it take a lot of planning?
No, you have the internet and all these Apps to make it easy to plan these journeys. It is not rocket science any more, you go on the internet, find what you want and book it. It's quite simple.
I have been doing it for multiple years. At the beginning I suppose I had to find out about ferries etc – now I know what I'm doing.
From September onwards you had three top 10s on the European Tour to retain your card, what brought about the change in form?
I want to say I played similarly whole year but I wasn't getting it done on the weekends, though I was making a lot of cuts. The momentum swung my way in the past few months. You have to be patient and that is difficult when you're not making the most of good positions.
Recently I got some good bounces, putts rolled in, I would chip in every now and then and things started to turn. So I would be going into the weekend in 15th rather than being 50th.
Given the nature of the low scoring on Tour there is a lot of pressure to keep pressing for birdies all week…
When things are not going your way I will still try to defend a good score, but that means you have no chance of being competitive. You have to take a step back to take two steps forward and rebuild some confidence and grow your game again over time. I am happy to play more conservatively. When I have my game back under control I can be more selectively aggressive.
At some point your instinct will be to take on a par 5 and that comes over time. I don't like not being in charge of my game, I don't mind shooting 72 if I feel in control. Hopefully it will be a matter of time before I get going again.
What tournaments do you miss not having a chance to play?
I don't have a high interest in going to the UAE, players say it's great but I would rather play Fiji or Mauritius. I have been to Puerto Rico and loved that. An island in the middle of the ocean would be really cool.
What if you qualified for Augusta?
I can always get to the Masters. It doesn't really matter what I have on two weeks before so I could take a cruise ship and drive down and cruise back. For the US Open, I guess I do have my limits. I am not going to drive across to California, but if it's in New York I could do it even easier than the Masters!
Will you ever get back on a plane again?
I don't know, I struggle trying to predict the future as nobody can. I'll leave it open.
How proud are you of yourself to do what you've managed this year?
When I started playing again in 2011, a lot of people in Germany were saying it would be impossible to make a living in golf if I was not capable of flying. It was the same thing when I dropped down to the Pro Golf Tours in 2013. How would I make the Challenge Tour if I wasn't playing half the events – and I won the rankings.
Then it was the same on the Challenge Tour as I wouldn't play the big events at the end of season – and I finished 12th on the rankings.
I am proud to show people that it is possible even though I haven't gone down the route that everybody thinks you should go down. A lot of roads lead to Rome and this just happens to be my road. I'm not walking down Via Appia, I'm walking down Via Giulia and that seems to lead to Rome as well. As long as I'm convinced of that, I will keep going down that route.