The team from National Club Golfer discuss…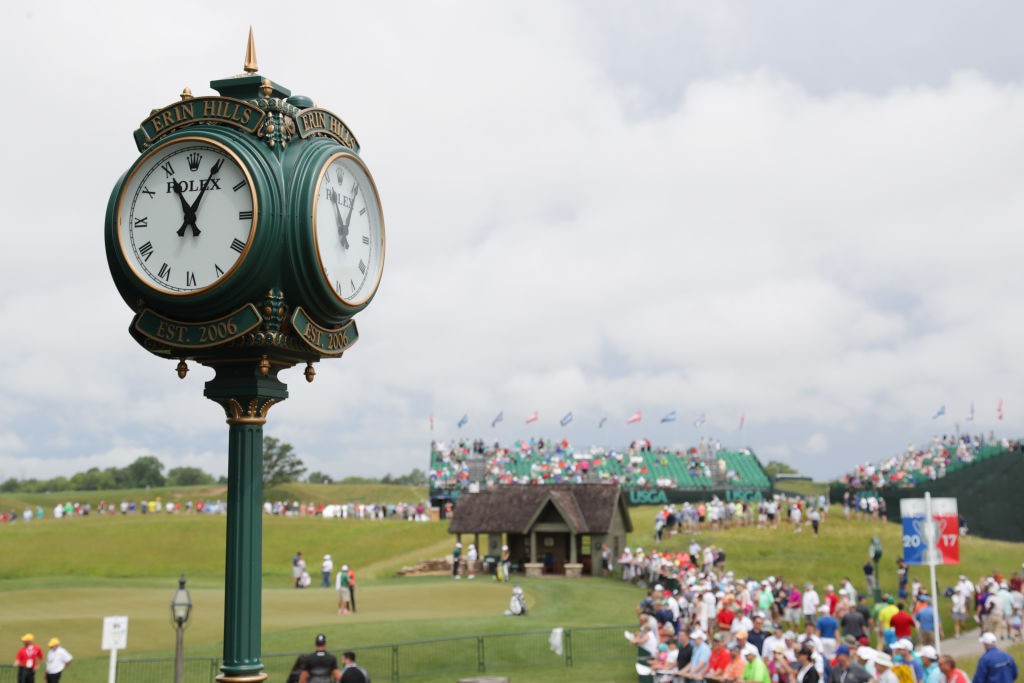 Credit: Getty Images
Mark Townsend: Three hours and 45 minutes tops for the weekend warrior. Four hours and 45 minutes for the brave hombres on tour. They're playing for millions, we're playing for a pair of socks.
Alex Perry: I'm torn on the situation at Torrey situation from Sunday. As a fan I was spitting when JB was taking four minutes plus to play a single shot. On the other hand, as Mark says, there is a potential title on the line, tens of thousands of dollars, places in the Masters and so on.
Dan Murphy: It took them six hours to get round Torrey Pines on Sunday. The only language these elite players understand is being penalised shots and the sooner that happens the better as far as I am concerned.
Matt Beedle: I've not problem with the pros taking their time over putts for the reasons already mentioned, but the weekend at Torrey Pines was really pushing it.
Dan Murphy: If you left 20-minute gaps between groups and gave them four-and-a-half hours to finish or face penalty shots being applied. I'm betting they'd make it round in time. Granted, there has to be a way of differentiating between a culprit and someone who just happens to be playing with a culprit. Otherwise these boys are going to take a long time. It's not like they need to get to Aldi on the way home.
Alex Perry: For us hackers, I'm with Mark. I try and play twoball and anything over three-and-a-half hours and I'm starting to get a bit over it.
Matthew Beedle: Anything between three and four hours for club golfers.
Alex Perry: I don't like to rush – but I also don't like to dawdle.
Mark Townsend: I get round in these times every time I play. I just don't care that much about how long golf takes.
Dan Murphy: Sounds like you both, like JB, play precisely as fast (or slow) as you like
Matthew Beedle: I'd rather just not be in a twoball and stuck behind a fourball who has the arrogance to say things like, "Sorry there's no room in front, can't let you through, going to be a long one today."
Tom Irwin: This is a good point. Play as slow as you like as long as you let faster players through.
Alex Perry: Summed up nicely by Matthew there. A lot of the time it depends on the situation. If it's a lovely day and I'm playing with someone whose company I enjoy, happy to spend as long as I want out there – as long as play is constant and flowing. What frustrates me is when I have to hang around to play a shot.
Tom Irwin: Me me me me me.
Alex Perry: This might surprise you but when I'm playing golf I care about no other group on the course, unless they are affecting me. You are the same. Everyone is.
Tom Irwin: Could it be possible though that when you are having a lovely day with someone whose company you enjoy that you might ever so slightly delaying the group behind you?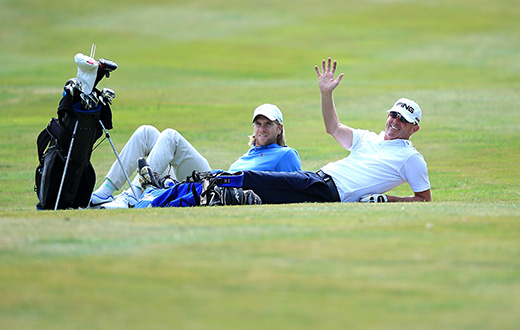 Credit: Getty Images
Alex Perry: I have no problem letting a group through if the situation arises.
Tom Irwin: I thought you 'cared about no other group unless they are affecting you'
Alex Perry: If we are slowing them down or they are playing faster than my group, they are affecting us. As we are them.
Tom Irwin: Nothing more annoying that having some faster players than you pestering you.
Alex Perry: Surely you know pretty quickly that you need to let them through. If they're "pestering" you it's probably more your fault than theirs.
Dan Murphy: No one thinks it's their fault do they? If you're not part of the solution you're part of the problem.
Alex Perry: I very rarely encounter slow play problems when playing golf – and when I have it is generally when there's a traffic jam of fourballs.
Matthew Beedle: I rarely play in a fourball anyway so anything above four hours is ridiculous to me.
Dan Murphy: Fourballs shouldn't be allowed really. It's too many people.
Tom Irwin: Correct.
Matthew Beedle: You're not allowed fourballs on Wednesdays and weekends at my club.
James Savage: Golf takes as long as it takes. It's a shame if it takes too long or if it's over too quickly. In the last five years I've been annoyed by slow play about twice. Both times on courses where the other people on the course had paid a lot of money for the experience so can be forgiven for taking their time.
Mark Townsend: I've got my pre-shot routine down to a tee. If it's a bit slow out there, walk a little slower, take a convenience break, keep hydrated, take some food on board and time your approach to your orb of hate. Then take too little club, pronate your right femur, clear your mind and rip the flag out/come up a bit short.
Alex Perry: So from all this the upshot is golf only has a slow play problem because of two reasons: Fourballs, and groups not letting faster groups through?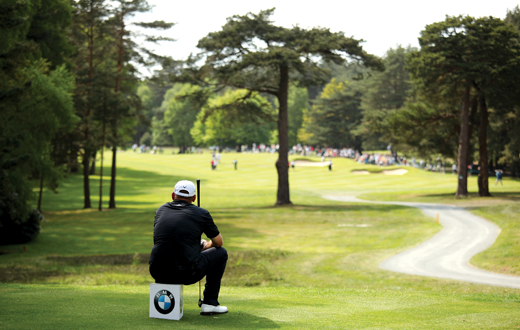 Credit: Getty Images
James Savage: People waiting around because they aren't sure whose turn it is to putt is one of the slowest things about golf. Honour on the tee, and so on. Scrap it all.
Tom Irwin: Unrealistic expectations. And courses that are too long.
Mark Townsend: Too much rough. And being crap at looking for balls in the rough.
Tom Irwin: Putting.
Alex Perry: Like, copying tour pros by reading putts from every angle?
Tom Irwin: It just takes a disproportionate amount of time vs. the distance covered. So just maths really.
Alex Perry: I think I speak for everyone when I say: "Go on…"
Tom Irwin: You can cover 500 yards in two shots that you spend 30 seconds each over. On the green you make no forward progress and it takes twice as long to execute each shot. Putting is also a very twee activity most alien to the outside world. Think that smashing a driver appeals to most with any kind of sporting interest. Just ban putting really.
Alex Perry: There we go everyone. We've solved slow play. Smack the ball onto the green, fist pump, and onto the next tee.