How much of Jordan Spieth's erratic final round at the Open was pure luck? Dan Murphy offers an analysis of the Open champion's big day at Birkdale…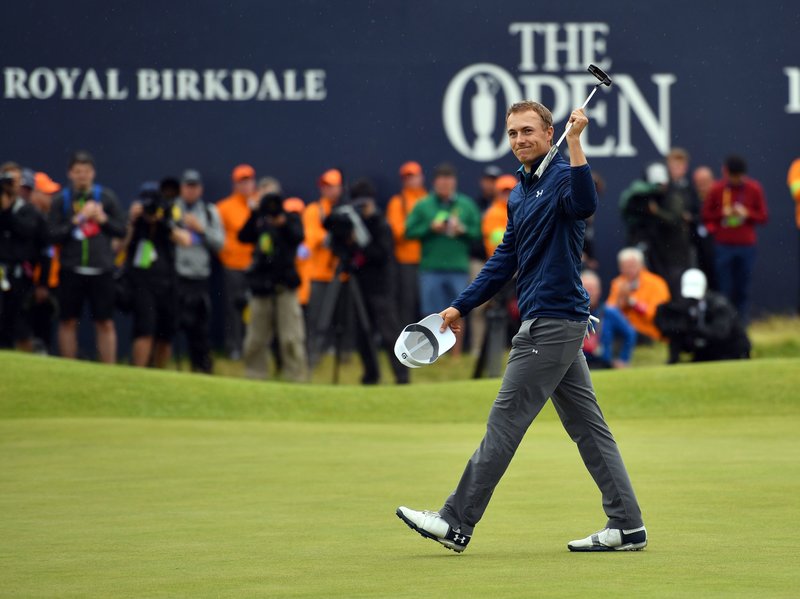 Image credit: Ben Stansall/AFP/Getty Images
Is Jordan Spieth lucky? On six occasions on Sunday alone, and on countless more over his short but incredibly successful career to date, I have found myself reacting with astonishment to where Spieth's miscues finish – and the scores he salvages from them.
I know I'm not the only one, which is why his catastrophic quadruple at the 12th in the final round of last year's Masters is indelibly lodged in all our memories.
For me at least, it wasn't schadenfreude but rather catharsis. There was a sense of justice being done – that someone hitting so many poor shots ought not to be on his way to a Green Jacket.
It's still hard to credit that Spieth, having played the first 13 holes in four over par yesterday, went on to change personalities and complete the final five in five under to win the Claret Jug.
Poor old Matt Kuchar. He took a one-shot lead to the 14th and went par, birdie, par, birdie. He found himself two shots behind Spieth standing on the final tee. But as sensational as Spieth's play was down the stretch, it felt to me like he was fortunate still to have still been in contention through 13 holes.
So here's my analysis of what he did, how he did it and how he got away with it. Is Spieth lucky or are we missing something more profound?
Finds a hardpan lie for his third to the 1st
Spieth's tee shot finishes on a rough bank. His second is a hack out. It goes straight left on him – towards the fans, more rough and gorse bushes. It comes to rest on a path, from where he pitches on to the green and two-putts for bogey.
Was Spieth lucky?
No and yes. He was unlucky in that his tee shot stuck on the hill when other balls landing there had obeyed gravity and popped out on to the fairway. The second, though, could very easily have ended up in a bush.
Hook off the 6th tee ends on short grass with a clear swing
Spieth's 3-wood starts left and goes further that way. It is so wide there is lost ball potential – like Rory McIlroy on the 15th later on – but it lands in the spectators and comes to rest on ground where the fans have flattened grass and wood chippings down. The lie is so good he is able to get his 3-wood back out for his 262-yard second shot.
Was Spieth lucky?
Yes, undoubtedly. On the same hole, Kuchar hit a far better tee shot that finished in a weird spot on a hill, next to a bunker, in heavy rough. Spieth went on to save par, while Kuchar took five.
Hook off the 10th tee stays above ground
Spieth hits his driving iron left off the 10th, which doglegs sharply to the left. He is so wide he gets inside the bunkers that protect the inside of the dogleg. Better still, he draws a good lie and because he is travelling on what is almost a straight line from the tee to the green, he only has a wedge in.
Was Spieth lucky?
Yes. From a similar tee shot 24 hours earlier, McIlroy found sand and it led to a momentum-arresting double-bogey six. Normally, there would be a real danger of a lost ball up on that hill. Happily for Jordan, not by the Sunday of an Open week that had seen 235,000 fans marching across Birkdale.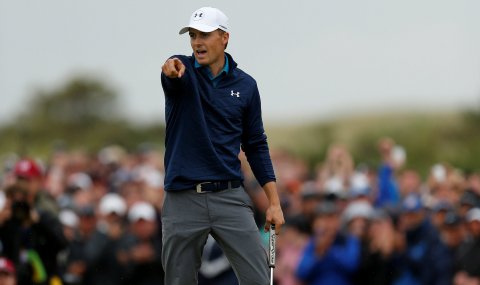 Image credit: Andrew Boyers/Reuters
Hook from the 11th fairway ends up in a clear spot on the top of the dune
From the middle of the 11th fairway, Spieth has just a short iron in his hands with the wind blowing from right to left. His approach goes straight left on him and finishes, once more, in the middle of the spectators. He is also short-sided. There is much gunge just a few yards away that could have cost him a penalty drop. As it is, he has a lie that enables him to play a delightful recovery to a few feet. And he saves par once more.
Was Spieth lucky?
Yes, he surely was on this occasion. It was a very poor shot and he got away with it. That said, it's one thing getting the break and another taking advantage of it. The chip was so good – and the putt still needed holing.
That tee shot on the 13th only costs him a shot
Spieth had a strategy on the 13th all week to drive into the wispy rough to the right of the fairway to take the bunkers out of play. He said he wanted to make sure he didn't miss left, which he thought was the worst miss.
Bearing in mind that he has hit several shots left up to this point, it's safe to assume he was guarding against another one. A wet clubface is another factor, according to Spieth. He hits it off the planet – although not quite as wide as some of the more excitable commentators are leading us to believe.
It finishes around 50 yards from the fairway and so presumably 25 to 30 yards right of where he was aiming. It rebounds right on landing, as well, possibly off some poor unfortunate's head. At least, I think it does.
Was Spieth lucky?
He was certainly lucky to find his ball because it bounced on to the far side of the dunes to an area where there were no spectators.
The way he handled the situation from there on, though, was a lesson to any golfer, professional or amateur.
Which of us wouldn't have taken a swipe and probably ended up in even more trouble? That would have resulted in a six or more.
Spieth realised that by going back on to the practice ground he could make five. And what a five it was. He got his third back on to the golf course and within the vicinity of the green. Then he re-entered the arena, apologised to Kuchar for the delay and calmly chipped and putted.
Brilliant course management. Brilliant execution.
It felt to me that from the moment Spieth had the good fortune to find his ball, he had mentally written down a five on his scorecard and moved on to the 14th tee to start again.
Wide tee shot on 17 is harmless and leads to a birdie
By now, Spieth has a two-shot lead, making the tee shot on the 17th crucial. The hole doglegs from right to left and the wind is blowing from left to right. Spieth doesn't really know where his ball is going off the tee so this is a stressful shot.
It's probably the last moment where he can lose the championship.
He knows he has a two-way miss at his disposal. Wisely, he chooses not to fight the wind and squeezes one down the right. It isn't good but nor is it disastrous. It is 15 yards right of the fairway, right of the bunkers, and the ball is still visible when it stops.
Was Spieth lucky?
No, this was just very smart play. OK, he drew a better than average lie but he also knew he would find his ball over there and, all things being equal, be able to advance it far enough to get a wedge in his hand for his third shot.
Which, in Jordan's world, is birdie time. Even though he had to stop his swing halfway through his pitch after a snapper went too early.
In trying to take a tight line, Kuchar's drive got stuck on the side of the dune – a much more dangerous spot and one that Spieth wisely avoided.
So is Spieth lucky or not?
Yes and no. He certainly drew a couple of good breaks but, make no mistake, Spieth's course management is in a league of its own. Especially when compared to the likes of McIlroy and Dustin Johnson. It also helps when your short game is as sharp as Spieth's – a part of the game he doesn't get enough credit for.
We already know how good his wedges are and likewise his putting. His rationale when not swinging well is just to give himself a chance with the clubs he is best at. He's also masterful at making the most of a good break, which is a special skill in itself.
Many of us, even having got our ball to within a chip of the 13th green in three, could still have run up a six of seven. But not Jordan.
It just goes to show that a strong mind is more than a match for a strong long game – at least some of the time.