To a certain generation Paul Way was as good as it gets.
Young, cool, forearms like Popeye and a style of haircut, a magnificent blond wedge,that signified the mid 80s better than anyone else in the game.
In truth I wanted to be Paul Way for much of my teenage years. What I lacked in forearm power and self-confidence I made up for via a haircut that similarly swooped from one side of my head to the other.
I might have looked a 14-year-old mess but, to me, it was a small step to resembling Way who, in my eyes, was golf's answer to something out of Miami Vice.
The first tournament I went to was the 1985 PGA Championship at Wentworth.
One day out quickly became all four, which culminated in Way rifling a 1-iron to the back of the 17th green in a play-off with Sandy Lyle. It was his second win on the European Tour by the age of just 22.
My dad and I then, rather strangely, stayed behind to watch Way pack his clubs away in his Saab Turbo before ourselves heading home. It was one of the great days of my life.
There were nine events in England on the European Tour, where did the PGA rank amongst them?
It was the biggest event other than the Open. I used to go to watch the Match Play when I was younger so I knew Wentworth but I maybe only played it once or twice before the PGA moved there.
The first PGA I played in was at Hillside when Tony Jacklin won and then Royal St George's which Seve won.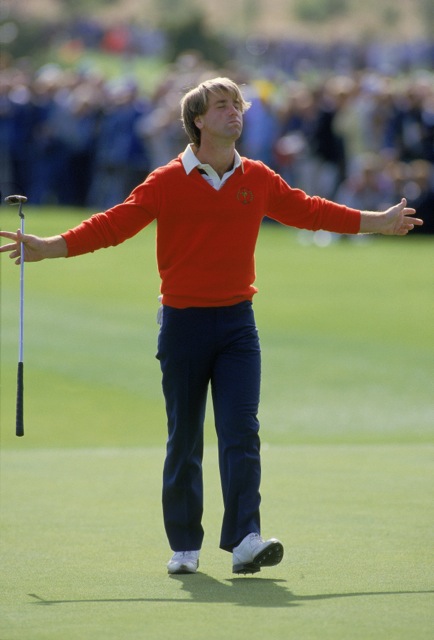 What do you remember best of the win there 30 years ago?
I remember the last 20 holes. I played the first two rounds with Seve and shot 75-72 and that was always difficult as he was so good. I was still three over when I birdied 17 and eagled the last so turned it into a 69. It was very wet that week so it was playing long and the scoring was quite high. I then managed a 66 on Sunday so I was nine under the last 20 holes after making the cut by one shot.
How good was that 66, it was the best round all week and one of only 18 rounds in the 60s all week?
On the last day I was paired with Gavin Levenson from South Africa who was a nice guy to play with. I was out in two under which was great and then birdied 11, 12 and 13, I dropped one at 15 but birdied 16 and 18. Had I birdied the other par 5s I could have shot 64 but it is always easy in hindsight.
What's it like playing the 17th in a play-off with Sandy Lyle?
The 17th was always very intimidating, out of bounds left and, if you miss right, you are struggling to reach in three and there is more out of bounds left short of the green. The camber took you away from the dogleg but I managed to draw one off the tee and then flushed a 1-iron, I probably got a bit of a flier, which scooted down beautifully.
How did the rest of the year pan out?
I was all over the place and so busy that I got tonsillitis at the Open at Sandwich. You are at hotels and airports and living the high life and, because you are doing well, it takes it out of you. I delayed the op so I could play in the Ryder Cup.
Then Howard Clark and I were second for England in the World Cup in California, he played great and we were second behind Canada. But the middle of the year I struggled.
You were 10th on the Money List in 1985 and then 125th the following year. How did you try and stop the descent?
I was trying things all the time. You know what you've got isn't working and everybody is getting better and younger. You end up fiddling too much as you are trying to get better and better. I tried to keep it simple but I'd had lessons since I was 11 years old so I was also a bit technical. If it happened today there would be more help, every sport has moved on now. I was with Mark McCormack and IMG and they were pretty good but it is so different now.
How did you end up partnering Seve at the 1983 Ryder Cup?
There was only one other Spaniard in the team, Jose Maria Canizares, and maybe Tony (Jacklin) felt like he was too old to play with Seve so he paired us together. I was only 20 and really didn't think we would play four games together but we did.
We lost the first match but he stuck with us and we won two and a half points from the other three matches.
Seve was fantastic, he talked to me a lot and I wouldn't really take too much notice as I was so young but he was so inspirational. He just took them on and I was just there to help him out.
On the 1st tee he asked if I wanted to tee off first. I told him I was a bit nervous so he replied 'well you go first then'. I thought thanks for that.
He then added 'don't worry where you hit it, I will get you on the green'.
I hit it straight in the fairway bunker and he hit the green with a 5-iron to 10 feet.
How good was he at getting under the American's skin?
He was absolutely brilliant. I saw him at the 2006 Ryder Cup and he reminded me of a story when he sent me up to the green when we were playing Tom Watson and Bob Gilder.
They had hit their 8-iron into the right-hand bunker and he asked me to go up and have a look how their ball was lying and tell him if they could get up and down.
The ball was plugged and they had no shot so I turned around and slit my throat with my hands and mouthed 'they're dead, they're dead' so he hit the middle of the green.
When he got to the green he was laughing his head off as the Americans were going bananas at me slitting my throat. He said 'that's fantastic Paul, that's exactly what I want you to do'.
We were five up after six and Watson was my hero so that was fantastic.
Silly question but quite how good was Seve?
A few weeks before, I played with Seve and Greg Norman at the Lancome and he was awesome. His short game was second to nobody other than maybe Tiger in his heyday.
There was Bermuda rough in Florida and he told me how to play it, an inch behind the ball like a bunker shot. If you tried to hit the ball you would stuff it.
I played with him in a company day when I was 17 at Woburn with Mike McLean. He beat our betterball and he then threw three balls in a bunker and took out his 1-iron. He stiffed two and holed the last. To witness that was genuinely incredible.
There was pressure because you were playing with Seve but he would also get you up and down from everywhere.
Two years later at The Belfry you got your revenge, how did it differ playing at home?

I think I was more nervous in '85, I didn't realise the enormity of it all the first time. There were 50,000 people behind you and I remember getting a police escort to the 1st tee and thinking 'Christ, what's this all about'.
We had a stronger team and there were more Spaniards and he kept them together. I was more than happy playing with Woosie and we won two of our three matches.
What do you remember of beating Ray Floyd in '85?
I didn't pay him a lot of respect; I was 22 and a bit cocky… and I got four up after eight, which helped a lot.
He didn't talk too much. We had a bit of a row on the 1st when he putted out of turn. He was 18 inches away and tapped it in so I pointed it out – I was winding him up. He muttered something and walked off.
At the 8th we both hit it in the hazard. There was my girlfriend, his wife, a PGA official and the caddies. I dropped mine and it stopped on the bank and he dropped his and it started trickling back down the slope and more or less into the hazard but stopped about two inches in play.  So his feet are in the shingle and all he could do was chip out.
He looked at the official and asked if he could get a re-drop to which he obviously said 'no'.
His wife says 'Raymond, don't you know the rules of golf?' Ray replied 'Maria, you better get the f*** off this golf course.' So they've had a domestic, I made a par and Maria is halfway up the 19th.
I was one up playing the last and he topped it in the water and he just shook my hand. There weren't a lot of pleasantries.
Is it true that you threw Faldo into the pool afterwards?
When we won, we went into the leisure part of the hotel and threw Faldo in the pool, yes. He had played twice and hadn't won a point so we threw him in with his suit.
For more golf news and equipment reviews from National Club Golfer click here