Mizuno have added a brand new customisation option to their MP-T5 wedge line-up with golfers being able to add a stamp to their clubs.
With up to 12 colours to choose from, this extra customisation element will help golfers stand out on the course like tour pros and Mizuno staffers Chris Wood and Luke Donald.
Players looking to customise their MP-T5 wedge will be pleased to hear that they can add a custom stamp of up to six characters, in capitals only, so there is plenty of scope for nicknames, names and more.
Stamp depth and alignment can even be customised to create a truly unique club.
Mizuno have created a 'Stamping guide' to ensure players are aware of this brand new customisation option:
Each stamp is unique and will vary slightly in depth and positioning.
No more than six characters per wedge (a space counts as a character).
The cost is per wedge (UK RRP £15-00) – regardless of the number of characters.
Only one paint colour per wedge.
Mizuno reserves the right to refuse any requests deemed to be offensive.
Custom wedge stamping is available through all official Mizuno stockists.
This new service is also available for both Mizuno MP-R12 and MP-T4 wedges, but is only available on new custom orders.
For more information visit: golf.mizunoeurope.com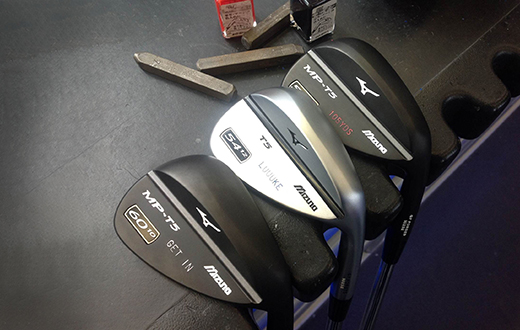 COMPETITION
The Aberdeen Asset Management Scottish Open is one of the biggest events on the European Tour and staged a week before the British Open, always features a number of the world's best golfers. Taking place this year at the Royal Aberdeen Golf Club from 10-13 July 2015, Phil Mickelson will return to defend his title against a host of the world's top players including Rory McIlroy, Henrik Stenson and Luke Donald.
Mizuno's tour truck has been the Official European Tour Workshop since 1986. Designed to accommodate every possible equipment tweak and new club request from the world's best players on Europe's professional tour, it is equipped and staffed by Mizuno personnel, it will be on site at the AAM Scottish Open until Friday evening.
The Golfers Club is offering a lucky member the chance to win two tickets to the Scottish Open and a tour of the Mizuno European Tour Van. To enter, simply answer the following question.
Q: When customizing a Mizuno MP-T5 wedge, how many colours can you choose from?
To enter, email your answer to competitions@twww.golfcare.co.uk with your name, membership number and contact number. The prize draw will take place on the 1st July 2015.
For more golf news and equipment reviews from National Club Golfer click here