Mizuno's JPX850 forged irons are simply a joy to play writes National Club Golfer's James Savage.
First impressions: These irons look absolutely stunning whether on the shelf, in the bag, at address or whichever way you look at them.
As you go up through the longer irons, the head size remains quite compact so higher handicappers may find them a bit intimidating.
But I found the short to mid irons about perfect for someone who wants something with a bit of style without compromising on confidence or forgiveness.
What they say: After six years of development – the introduction of Boron to Mizuno's Grain Flow Forging process enables the JPX850 to overcome the distance limitations of traditional forged irons.
Mizuno's new material is 30 per cent stronger than its traditional 1025E steel billets – allowing for a thinner face and extreme ball speeds.
The thinner Boron face is strategically reinforced by a power frame cavity – allowing it to flex over a wider area.
A shorter top edge to the frame helps maintain the recognisably solid Mizuno feel.
"This is distance generated by genuine technology, rather than just cranking lofts or using longer shafts," said Chris Voshall, senior engineer.
National Club Golfer Verdict: You think they can't possibly be as good to play with as they are to look at but the performance is more than a match for the aesthetics.
They are sleek but still have the forgiveness from the forged boron steel so will suit a wide-range of abilities.
The feel through the ball is pure and effortless with barely any sound. There wasn't an iron on test that felt this good when making a good strike.
Distance numbers remained consistent throughout the short and mid-irons although I did struggle for consistency with the longer irons which is something I found in most sets.
Hot: Playable, forgiving and stunning to look at
Not: There's nothing not to love
Details
SRP: £100 per club
7-iron loft: 32 degrees
Stock shaft: DG XP115
For more golf news and equipment reviews from National Club Golfer click here
COMPETITION
The Golfers Club is offering a lucky member the chance to win a Mizuno Flat Knit Polo in Brilliant Blue, RRP £70.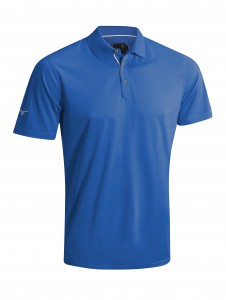 To enter, simply answer the following question. 
Q:  Mizuno's new material is what per cent stronger than its traditional 1025E steel billets?
To enter, email your answer to competitions@twww.golfcare.co.uk with your name, membership number and contact number. The prize draw will take place on the 3rd August 2015.