Editorial provided by National Club Golfer
The large 380-gram head coupled with a 15-inch, 130-gram counterbalanced grip helps promote exceptional stability, control and feel.
While the typical putter has one light end (grip) and one heavy end (head), putting more weight in the grip to counterbalance the weight of the head increases the MOI of the entire club, from top to bottom, which makes it 50% more stable and much easier to keep the head on path – something the company calls "Stroke Stability."
Ghost Spider Si has an MOI of more than 6000 which makes the putter head more resistant to twisting at impact and helps protect ball speed and distance-control on off-centre hits.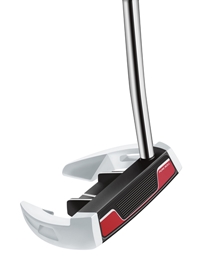 With great aesthetics and proven performance the Ghost Spider Si has been popular among Tour pros including Rory Sabbatini, Fred Funk, Retief Goosen and Lucas Glover.
Justin Rose used a Ghost Spider Blade to win the 2013 U.S. Open.
"The player excitement on Tour over counterbalanced putters drove the creation of the Ghost Spider Si," said Tomo Bystedt, TaylorMade Golf's Director of Product Creation for Irons, Putters and Wedges.
"It's the perfect putter for players who want the benefits of a high MOI head and counterbalanced stroke stability in a clean, elegant design."
Aesthetically, the Ghost Spider Si features a simple yet innovative design. The white head contrasts nicely with the green to promote additional alignment benefits.
The PureRoll Surlyn insert promotes soft-yet-solid feel and a smooth roll straight off the face.
The Spider Si putter is offered in a 35 or 38-inch shaft.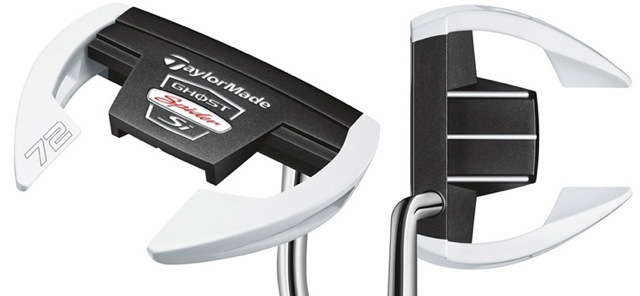 Players grip the club as they would a normal-length putter, with 2 or 3 inches of the butt-end of the grip extended above their hands, which provides the maximum benefit of counterbalancing.
The 38-inch length is engineered for players who normally play a 35-inch length while the 35-inch model is built for the player who favours a 33-inch length. Players who favour a 34-inch length can choose between either 35 or 38 inches.
Available: Now
SRP: £130
COMPETITION
The Golfers Club is offering one lucky member the chance to win a TaylorMade Spider Si putter
To enter, simply answer the following question.
Q: What does MOI stand for?
To enter, email your answer to competitions@twww.golfcare.co.uk with your name, membership number and contact number.
The prize draw will take place on 03/11/2014.