Recently on The Golfers Club, we asked you to tell us your favourite way to watch golf – and why.
We received a flurry of responses – and it turns out television was the overwhelming favourite!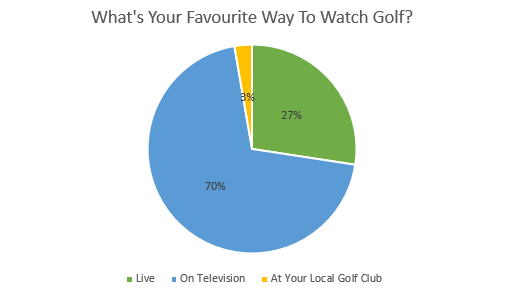 From everything you said, we're not surprised that television won. It's getting more and more difficult to get tickets to a big golf tournament these days – and even the smaller ones can be tricky to get to. Television allows you to see every player and every shot from every andgle – all without leaving the sofa! While we would recommend everyone goes to at least one tournament, we can see why the committed fan would enjoy watching golf on TV.
Not only that, but of those who picked television as their favourite – it turns out they had a favourite channel as well. Step forward Sky Sports!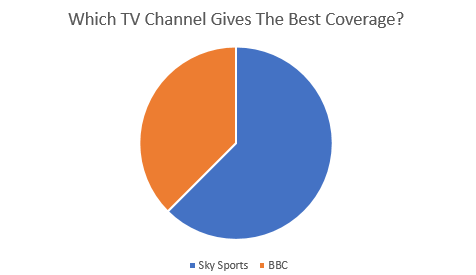 We must admit, this one surprised us. After years of enjoying watching golf on both BBC and Sky Sports – we thought the BBC coverage being free might 'swing' it, but it turns out the majority of you prefer Sky Sports. More tournaments and a far bigger budget means the coverage is far more in-depth, meaning there's more action to enjoy! 
Thanks to everyone who gave us their thoughts on how they love to watch golf. As promised, we picked out the five best responses below, each of which will be getting a Mizuno Cap – no matter whether you chose television, live or the BBC!
Martyn – Live
At the course. You can soak up the atmosphere and enjoy a good walk at the same time!
Vivienne – Television
Television. I find that I can actually learn to adapt my game through watching how the professionals play in various conditions & courses.
Chris – Television
Terrestrial TV gives better access to all and hopefully encourages children to take up the game!
Garry – Live
Live, because you are right in the atmosphere, with the best players in the world and the whole crowd.
Mike – Live
Live, especially British Open action in the flesh.  From the links of Royal Birkdale and Royal Liverpool, plus attending the 2016 US Open at Oakmont – there is no substitute for watching the top players, and how they conduct themselves live on the course, truly wonderous!