Playing golf in the driving rain is hard enough, and it's nigh-on impossible when your grips are drenched, and your glove is wet through. A reliable waterproof golf bag is worth its weight in gold, because if you can keep your clubs dry, you'll be able to focus on what matters – hitting good golf shots.
In recent years, manufacturers have worked hard on their waterproof offerings, acknowledging that the UK golfer is faced with interchangeable weather conditions all-year-round.
Quite simply, if you're going to buy a golf bag – stand or carry – you need it to be waterproof. Therefore, you should be paying attention to the fabric it's made from and finding out whether it has sealed seams and zippers.
Of course, you also want a bag that ticks the other boxes: comfort, style, and usability.
There are models to suit all tastes and preferences, and you're sure to find one that you like here.
This is our selection of the best waterproof golf bags of 2021.
Best waterproof golf bags: Stand bags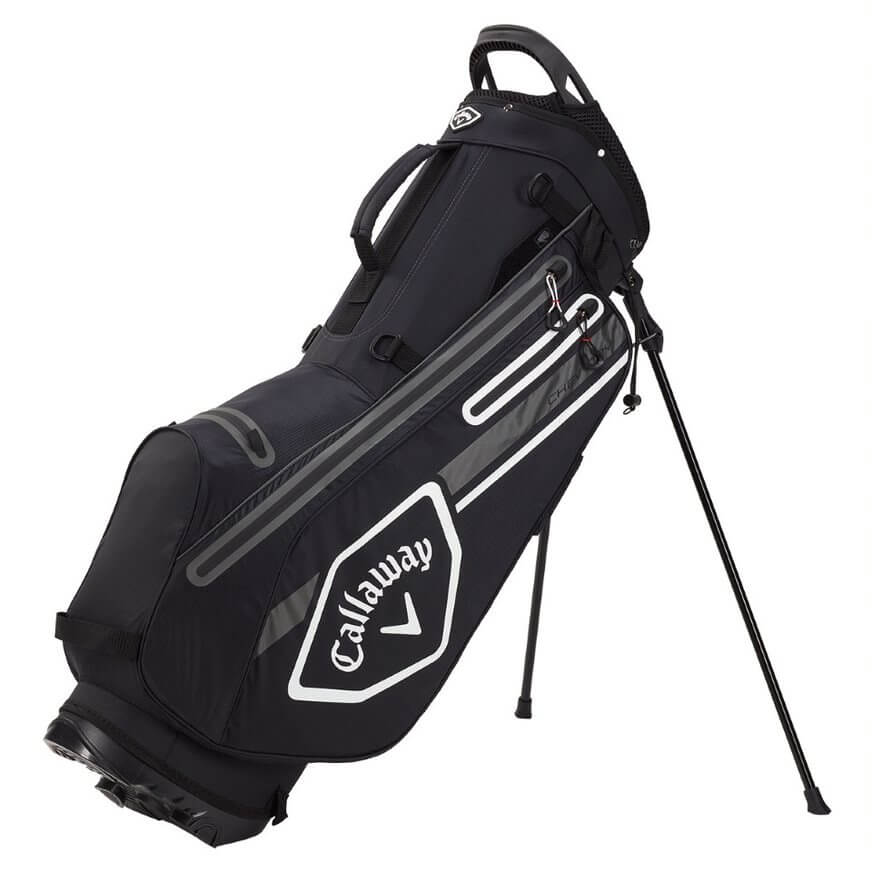 This bag provides year-round protection with its fully seam-sealed waterproof design. Organisation is made simple with its four-way divider top system, whilst an integrated lift handle makes the lifting and transportation of this lightweight and stylish bag much easier. It also features five pockets: a velour-lined valuables pocket, ball pocket, cooler pocket, full-length apparel pocket, and an accessory pocket.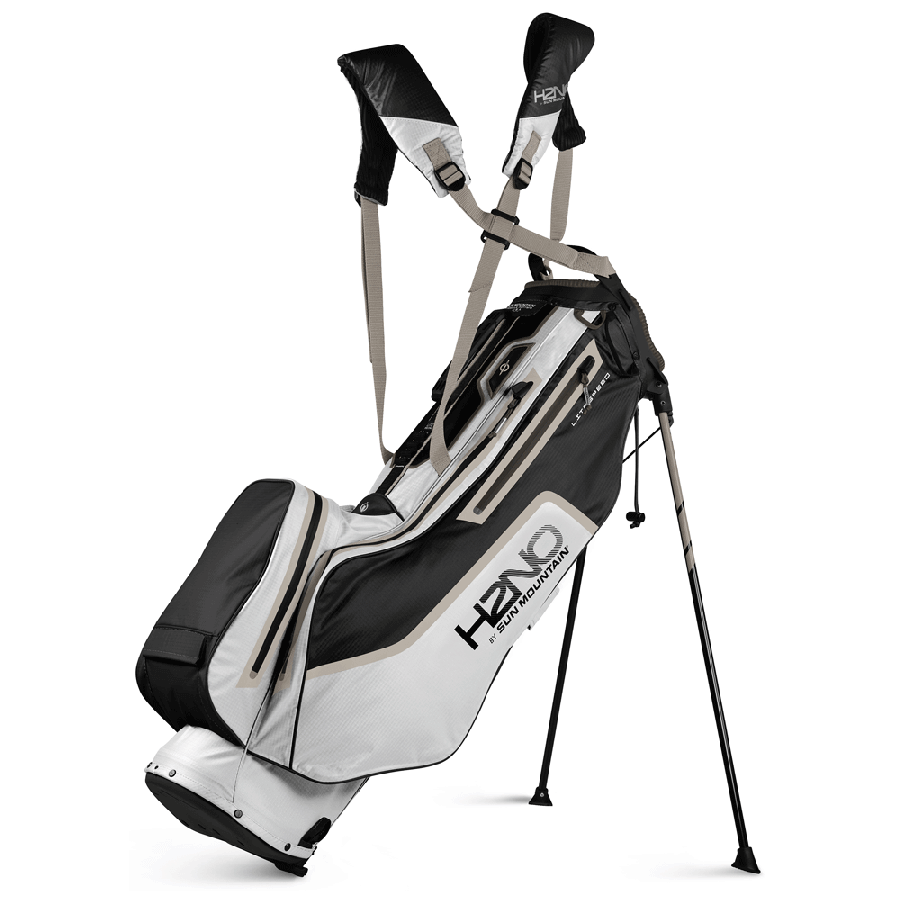 Sun Mountain's extensive range of golf bags is so impressive that choosing one is very difficult. However, because you're searching for a waterproof option, this is one you must check out. It's new for 2021 and is so light and comfortable to carry – less than 4.5 pounds – Sun Mountain is confident it will tempt some trolley users back to carrying. It's packed full of brilliant features, with incredible attention to detail applied in every department.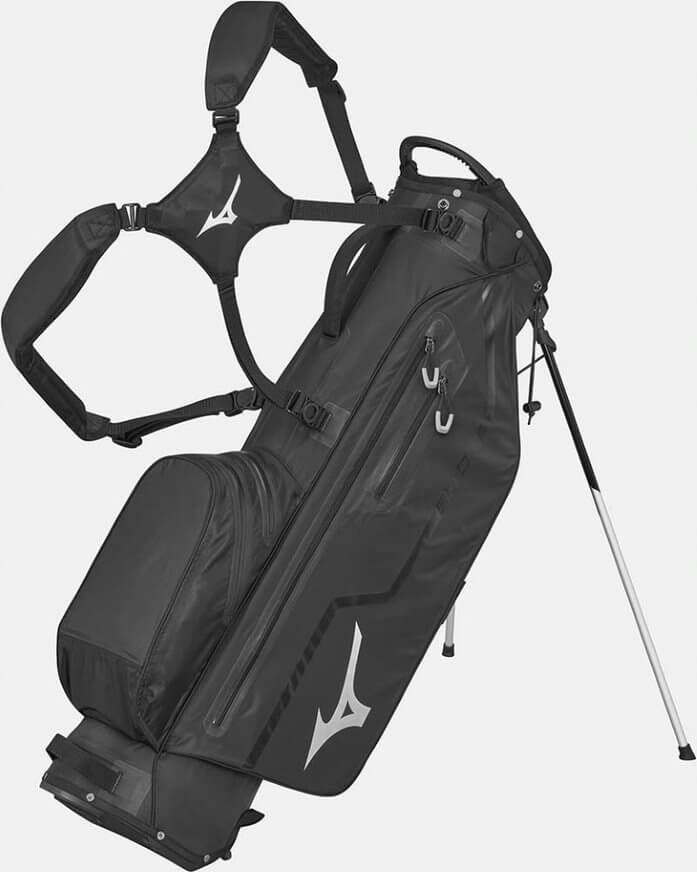 Mizuno doesn't just manufacture premium irons – its latest bag range is also hugely impressive. Not only is the BR-DRI bag available in an array of eye-catching colours – the blue, silver, and red models are particularly smart – but it delivers excellent functionality. It's lightweight and features six protected pockets, comfortable double shoulder straps, an external umbrella loop, and a matching rain hood. You shouldn't need it, but for extra peace of mind, it also comes with a one-year waterproof guarantee.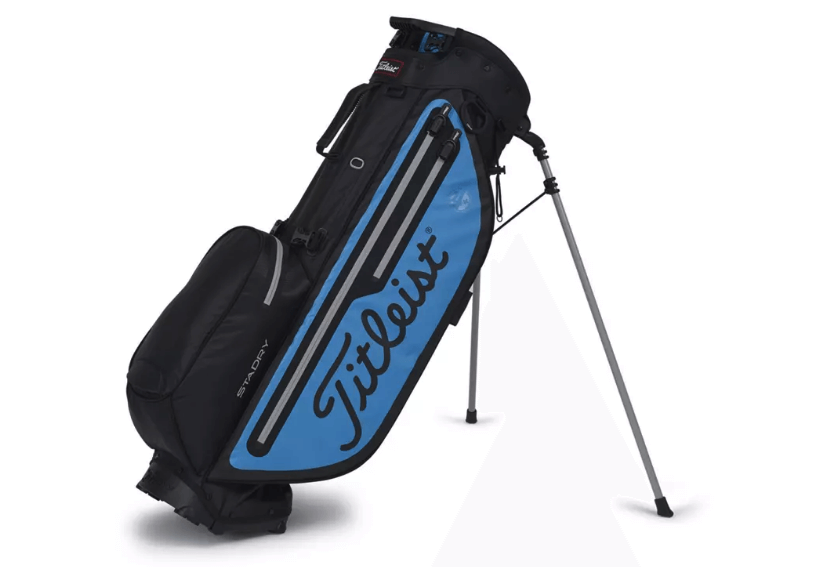 Titleist bags always look easy on the eye – it's probably the iconic Titleist font. This bag backs up its good looks with a wide range of impressive features. You have high-grade aluminium legs and advanced hinged bottom for stability and durability, whilst dual-density foam ensures long-lasting comfort. There are some fantastic colours to choose from, too – as well as the brand's popular red and black combinations, there's the striking blue/black/grey and charcoal/grey/apple options.
Best waterproof golf bags: Cart bags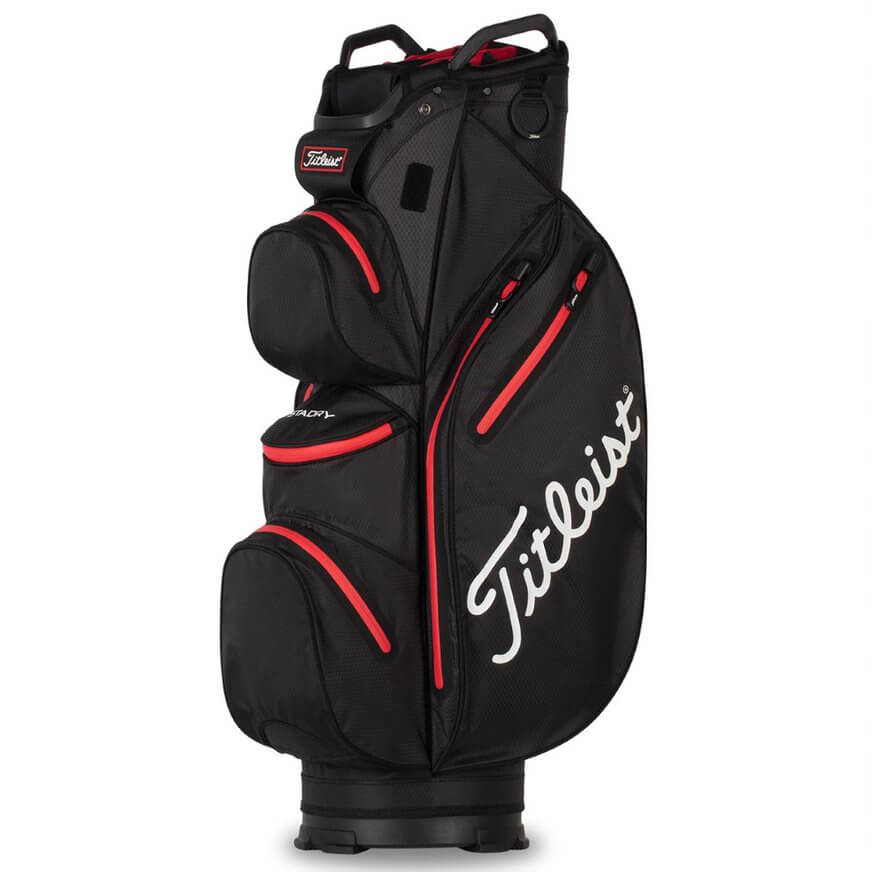 This bag features StaDry™ waterproof technology and seam-sealed waterproof zips to keep your golf clubs and accessories dry. It's also constructed with abrasion-resistant materials for long-lasting durability. The bag has 14-way top cuff with full-length dividers for better club management, whilst seven forward-facing pockets provide plenty of storage space. So, if you need to remove all your wet weather gear, you have ample room in your bag if you go for this one.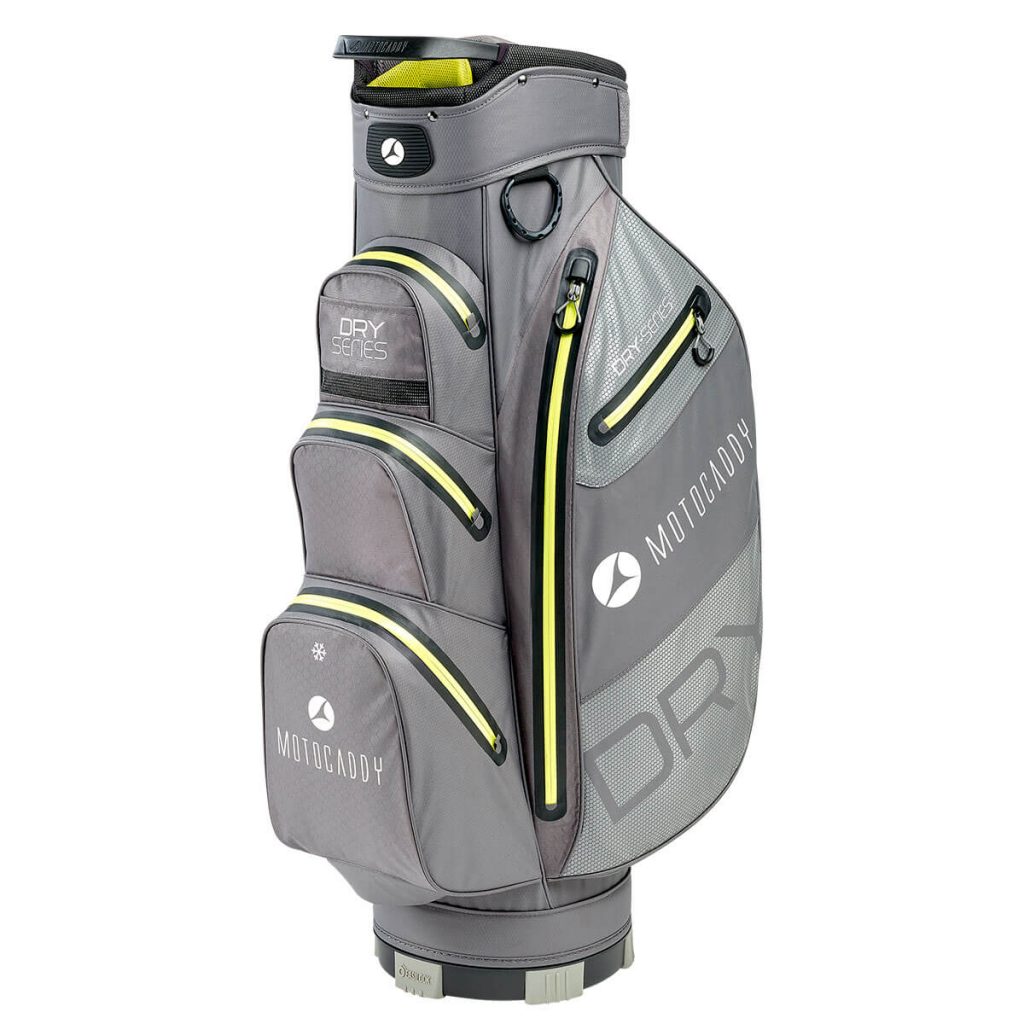 Normally you'd associate trolleys and GPS devices with being 'feature-packed', but this cart bag is most certainly that. As the name suggests, it's constructed from waterproof fabric, which is also durable and lightweight. In addition, it features thermo-sealed and heat-welded seams, easy‑open Japanese YKK zips, a waterproof rain hood, an internal umbrella sleeve, and seven spacious pockets.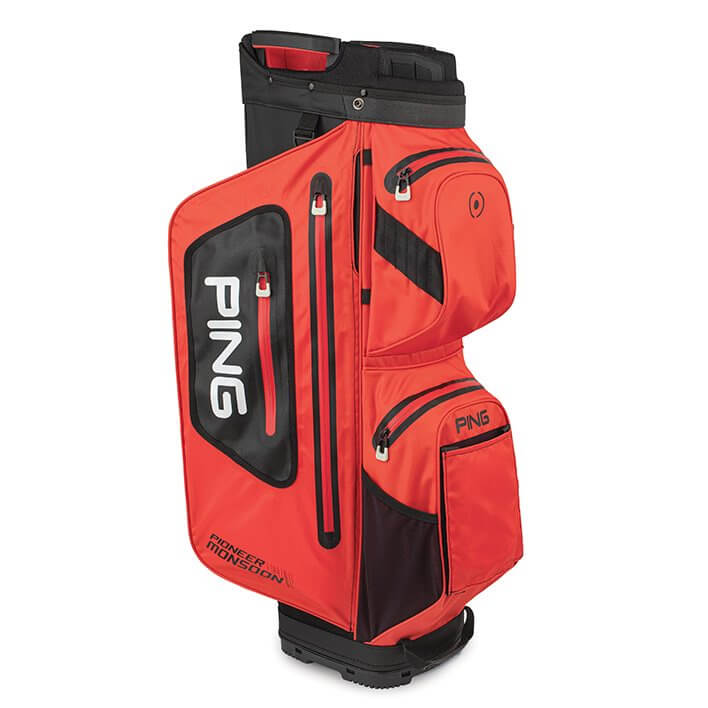 This aptly-named bag features eight seam-sealed pockets (12 in total) and two ventilated mesh slip pockets for airing damp items. Meanwhile, the 15-way top offers the ultimate protection for your clubs, whilst integrated handles make transporting easy. It's available in three colours and, whilst the light grey/black/white is really smart, by going for the scarlet/black or azure, you'll be doing your bit to brighten up the fairways on those miserable, wet days.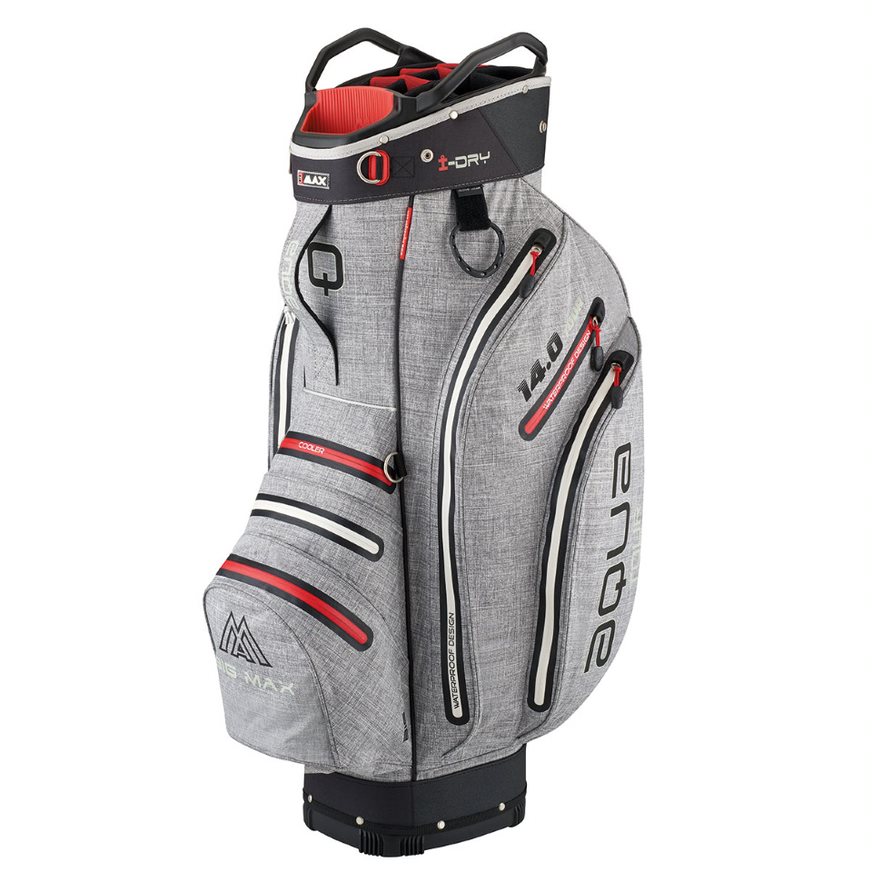 BIG MAX has been one of Europe's leading golf trolley manufacturers for more than 20 years, and it boasts an extensive range of innovative golf bags. The AQUA Tour 3 is 100% waterproof and is described by the brand as the 'ultimate cart bag'. To assist you around the golf course, it has a glove, towel, and umbrella holder, plus a dedicated battery pocket. A single-padded shoulder strap makes it comfortable to carry short distances.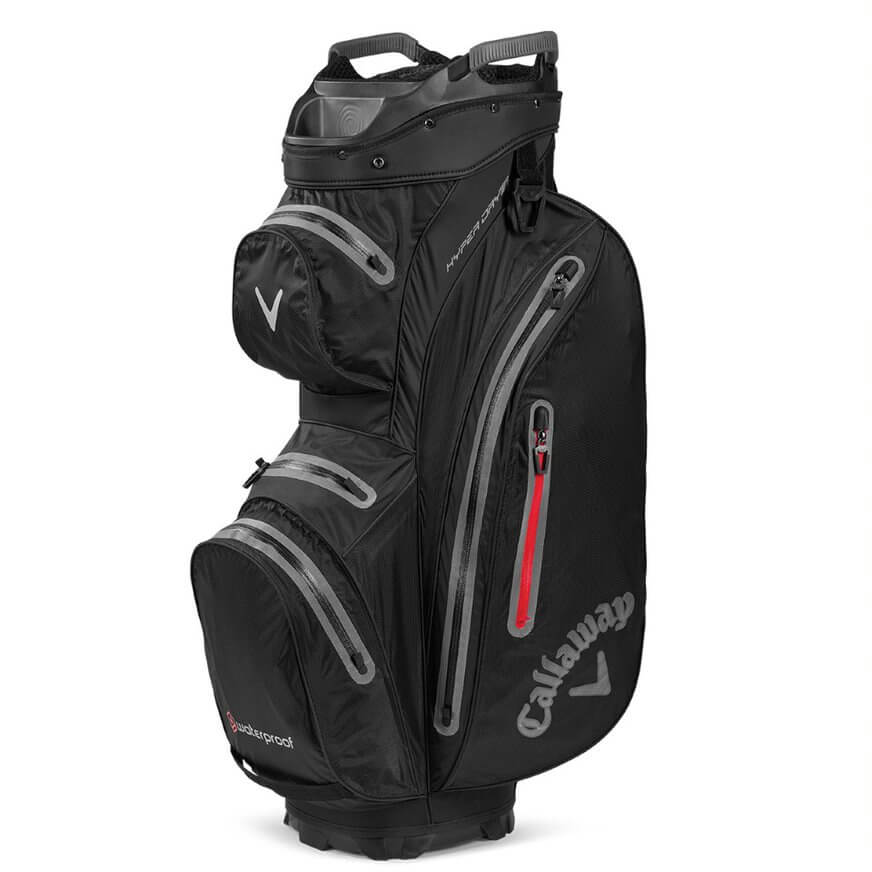 Callaway's Hyper Dry is said to be 50% more waterproof than any of its previous models and boasts a multitude of features to keep all your gear dry, secure, and easy to access. It features eight pockets, including an insulated cooler pocket, and because it's fully seam-sealed, it's guaranteed to keep the elements out. Great attention has also been given to how the clubs are protected in the bag, with the inclusion of a new, non-stadium top that allows wedges to sit flush, eliminating hang. In addition, the 15-way top with individual full-length dividers and separate putter well prevent the shafts from knocking together.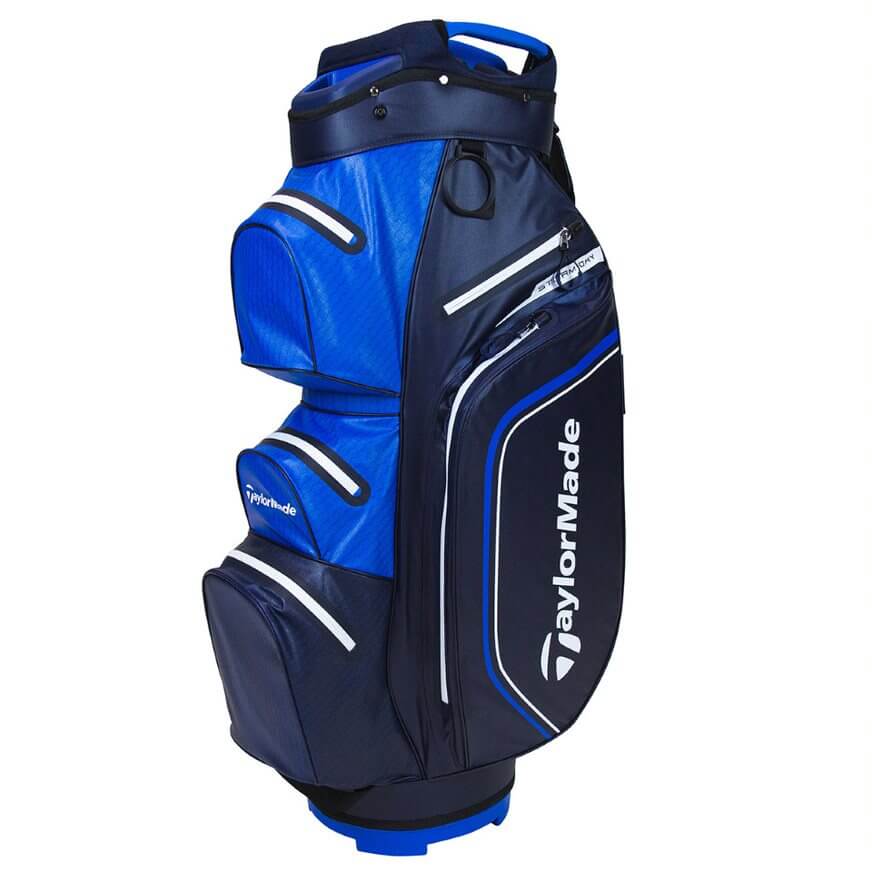 TaylorMade's Storm Dry features lightweight, waterproof construction, heat-welded seams, and thermo-sealed zippers to withstand the elements. The synthetic leather cuff and 14-way divider system, which has three full-length dividers and an integrated putter well, is designed to prevent snagging as you place or retrieve your equipment. Meanwhile, its trolley lock base system ensures your clubs stay firmly secured during the course of a round.