It's not just the upper half of your body that needs protection from the elements. Whether you're faced with light drizzle or driving rain – the type that comes in sideways and leaves you soaked through – you also need a reliable set of waterproof trousers.
The best waterproof golf trousers will help you stay bone dry in even the most adverse weather conditions. Of course, whilst we'd rather not have to pull on a pair at all, modern waterproof outwear has come on leaps and bounds in the last 15 years.
Here are some of the best waterproof golf trousers on the market.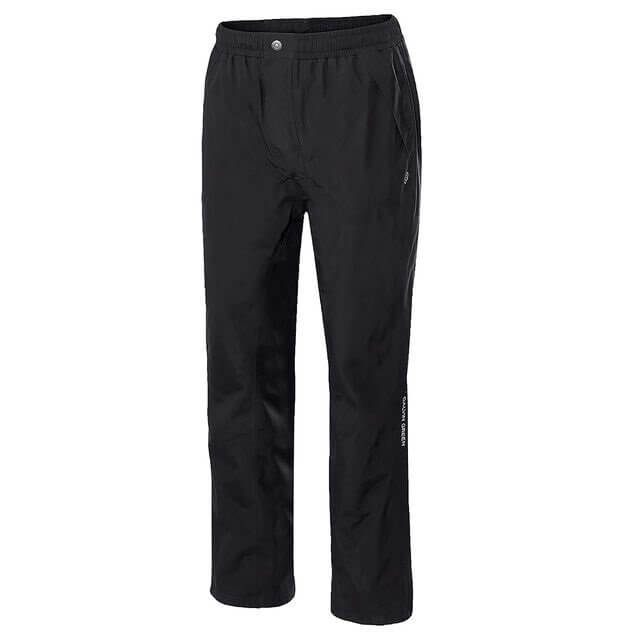 True, spending this much on a set of trousers might seem a little extravagant, but you can't put a price on staying dry, and in Galvin Green, you have one of the most trusted golf clothing brands on the market.
Its best-selling trousers are crafted with a GORE-TEX waterproof membrane, so you're pretty much guaranteed to stay dry no matter how bad the rain gets. They're also designed with breathability properties to keep you comfortable.
As you'd expect from such a premium brand, there are plenty of other touches that set this garment apart, such as the elasticated waist and drawstring to aid a perfect fit and front pockets with fleece lining. Meanwhile, the fabric at the leg hem is extra abrasion-resistant, so you can be sure your investment will stay in good condition for many seasons.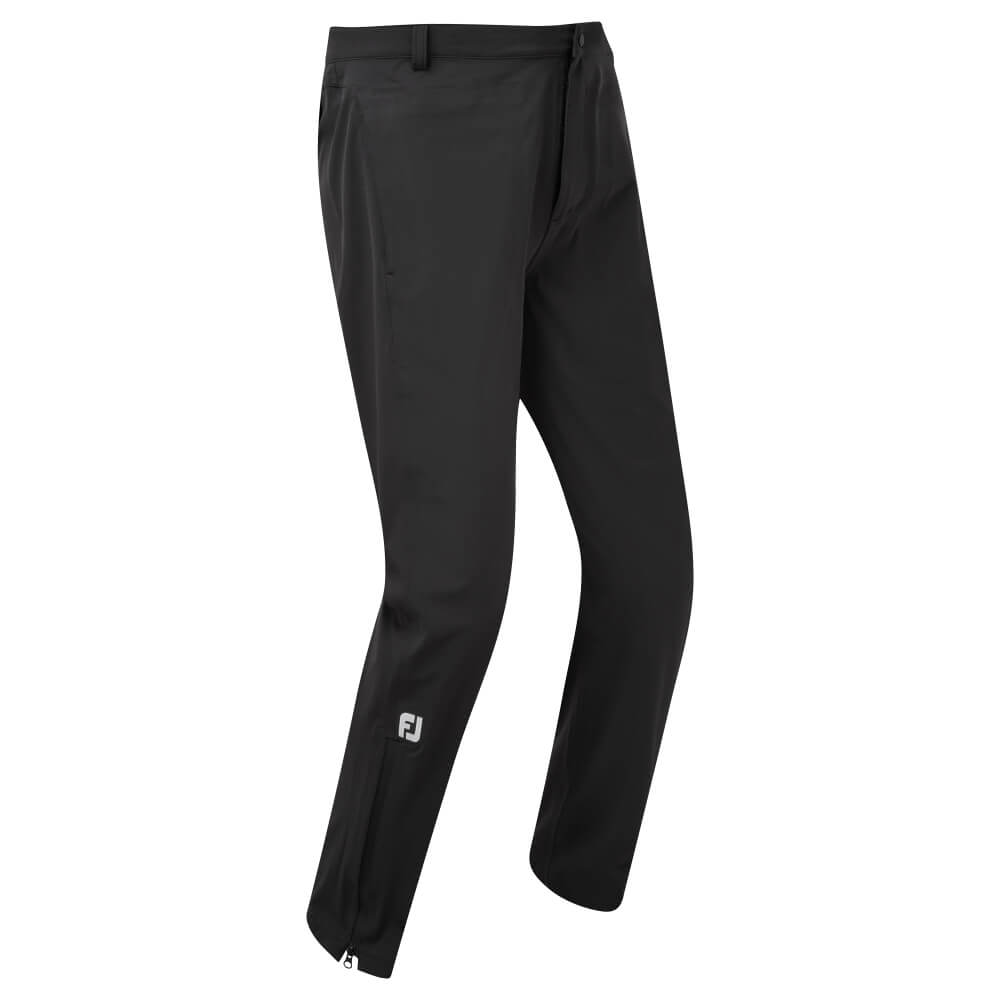 The name says it all – they're actually storm-proof. Even if you're a fair-weather golfer, you're going to get caught out at some point, especially given the changeable British weather.
With 4-way stretch fabric, zippered leg closure and reach through pockets, every detail has been considered, making them comfortable and hugely effective in keeping you dry and focused on your golf game.
Other design features include an elasticated waistband and belt loops, plus you have the FJ branding on the leg and back pocket for maximum appeal. Bring on the rain!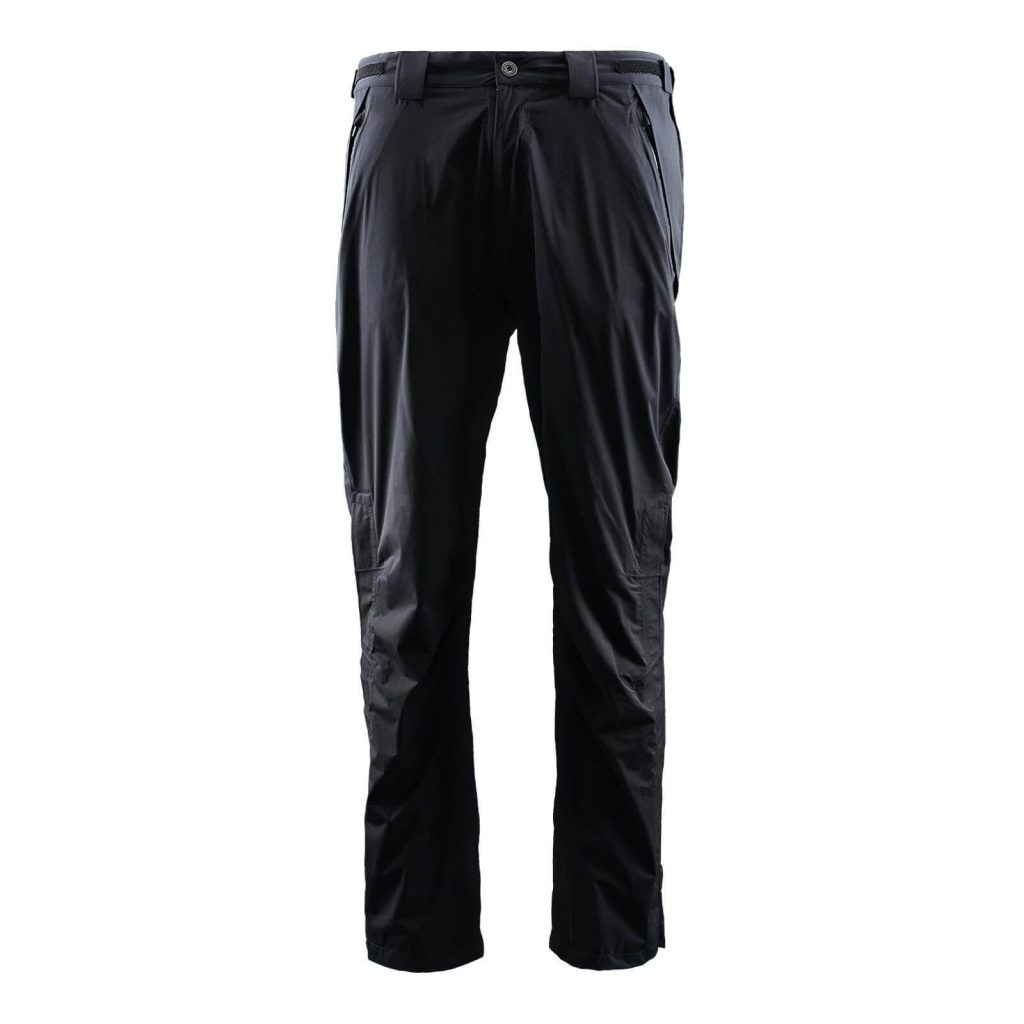 The aim of these trousers is to keep your temperature at 37.5°, the body's ideal body temperature. For that reason, they're light and breathable – but how do they perform when it's hosing it down?
Well, they have a waterproof rating of WP2000, and they're fully seam-sealed to prevent any moisture from creeping in. In other words, you're unlikely to feel any uncomfortable trickles when you're standing over an important putt.
The 4-way stretch also means you can repeat that athletic swing of yours, despite the extra layers. Meanwhile, finer details include a front button and zip fly with velcro at the waist to help you find that perfect fit.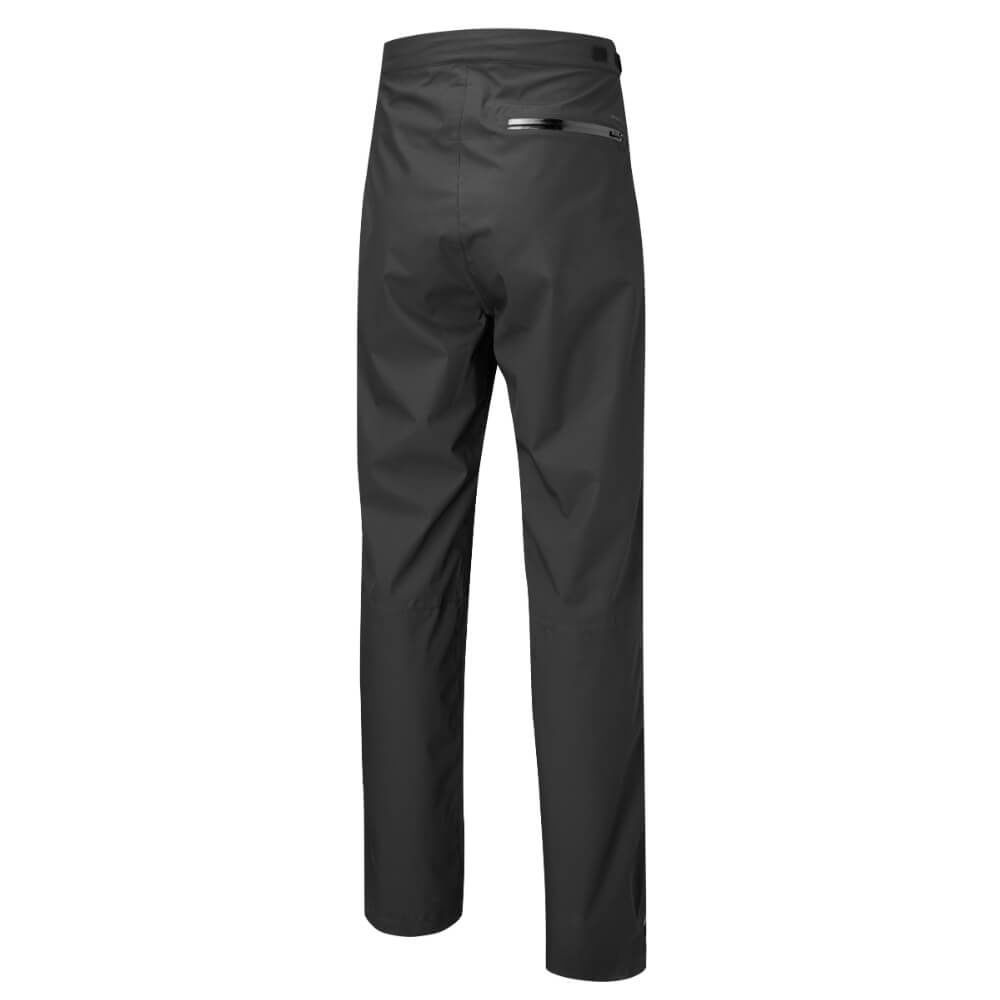 These trousers have been designed for lightweight waterproof protection and playability. The same SensorDry technology is used in many of the Ping's other garments, helping golfers stay comfortable no matter how bad the weather turns.
These trousers are fully seam-sealed, while the pockets are spacious and well-positioned. The adjustable waist gets the thumbs up, too, as does the zip leg opening that makes getting them on and off easy. This is no small detail, as there's nothing worse than struggling to get trousers on and off over muddy golf shoes mid-round.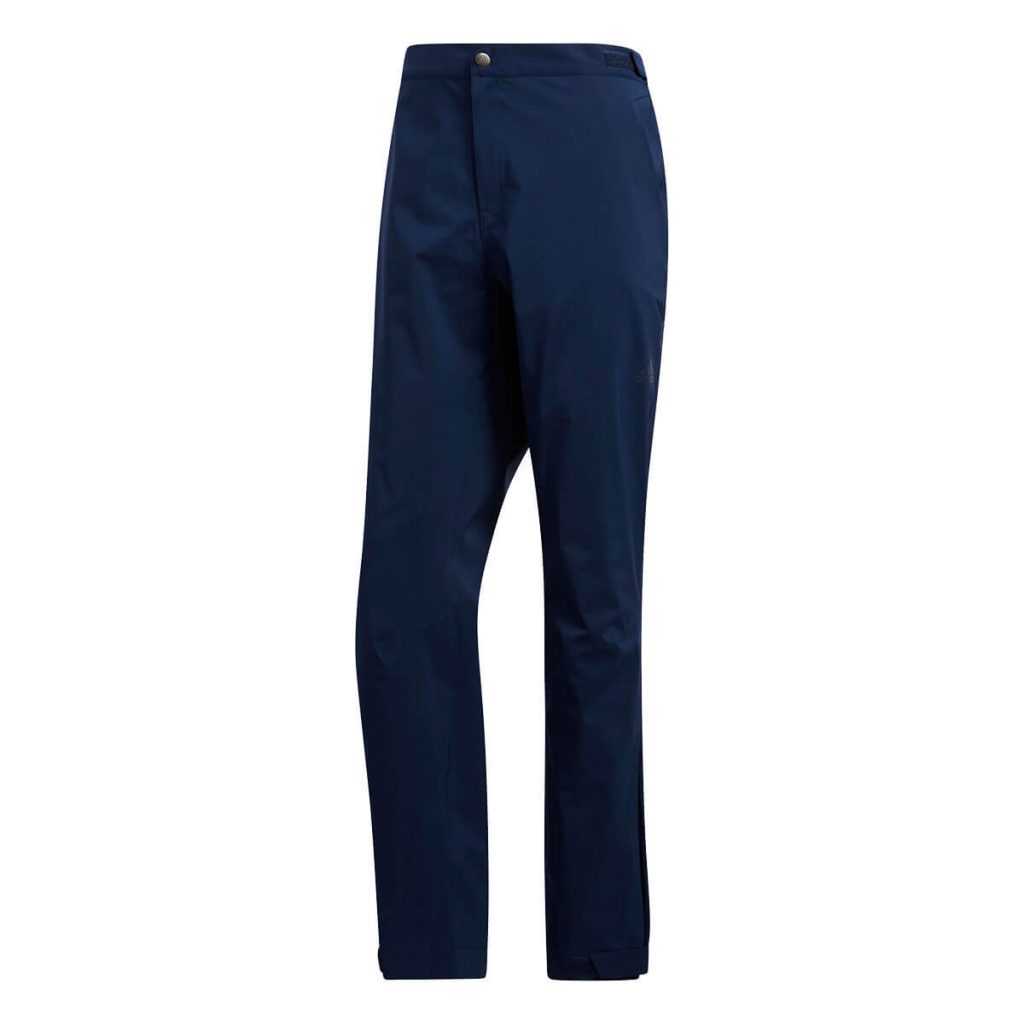 If you're not looking to fork out more than £100 on a pair of waterproof trousers – perhaps you're more of a fair-weather player – the Adidas RAIN.RDY waterproof trousers would represent money well spent.
As well as offering waterproof protection, they also provide 50+ UV protection to keep your skin safe from harmful rays. After all, even the winter sun does come out occasionally.
The design also features front and back pockets, velcro adjustment, and hook and loop leg openings, while the use of stretch performance fabrics means you're able to move freely without feeling at all hindered.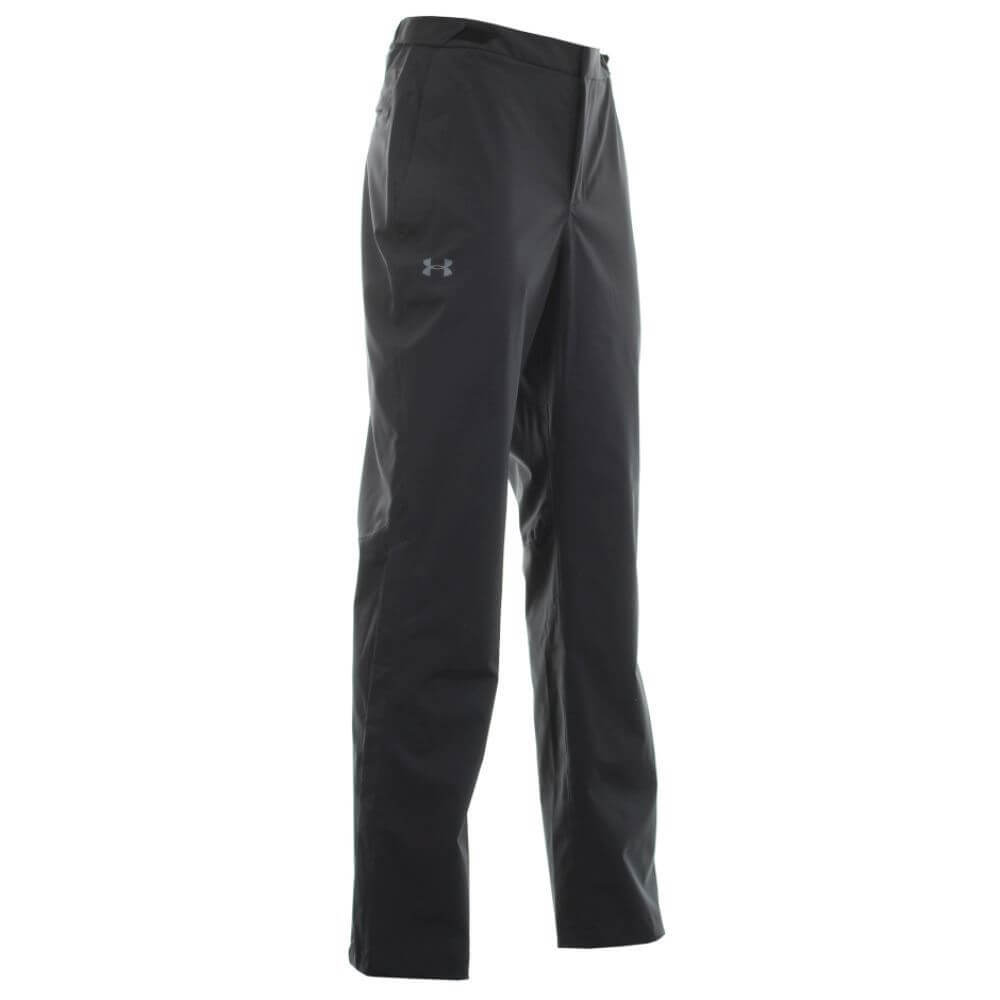 Under Armour's Storm technology repels water without sacrificing breathability. They feature an adjustable hem cord, velcro side adjusters, lower leg zips and secure hand pockets, while the brand logo is situated on the back, completing the look nicely.
The contemporary style is very popular with golfers, and despite being feature-packed, they're not going to set you back a large sum of money. It's one of the reasons why they're one of the brand's best sellers.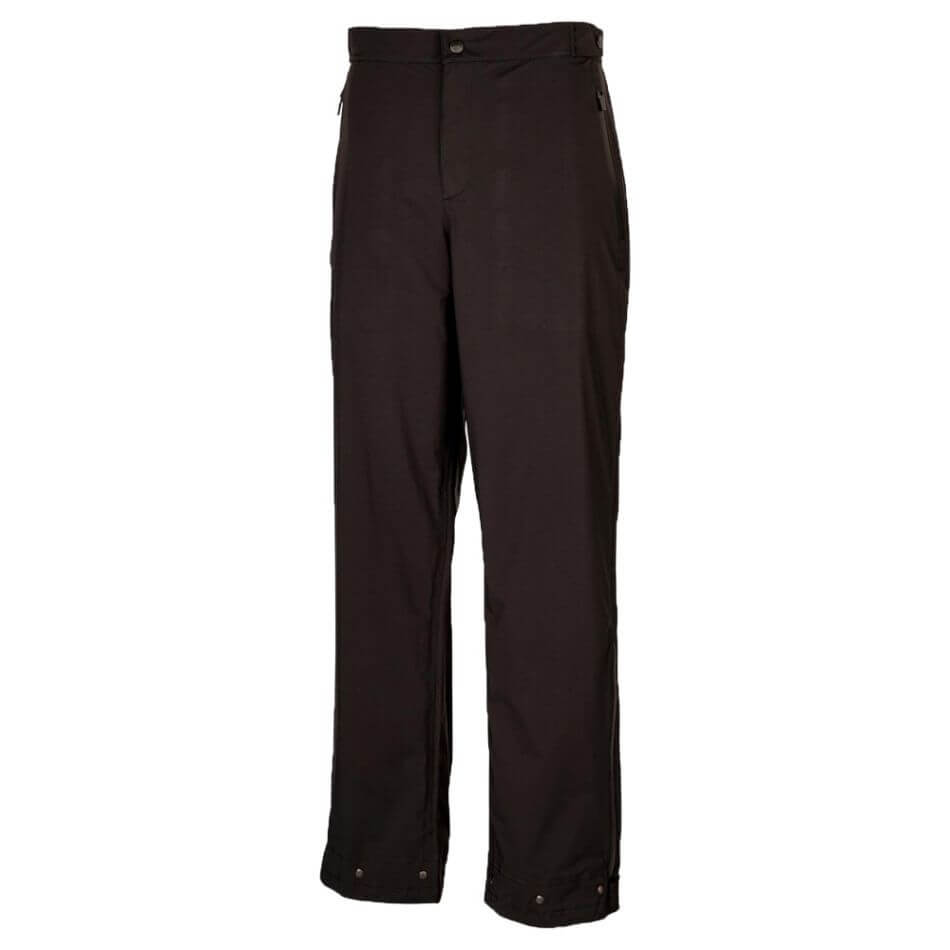 With a fully seam-sealed stretch StormCell fabric that helps reduce weight and improve mobility, Puma's sporty Ultradry trousers won't impede your swing in the slightest.
On top of this, they feature fully waterproof zippers and pockets, so you can keep your scorecard dry, plus any other items you like to have close throughout the round.
With velcro zip leg openings, they're easy to pull on and off quickly, so you'll never get caught out when an unexpected shower passes through.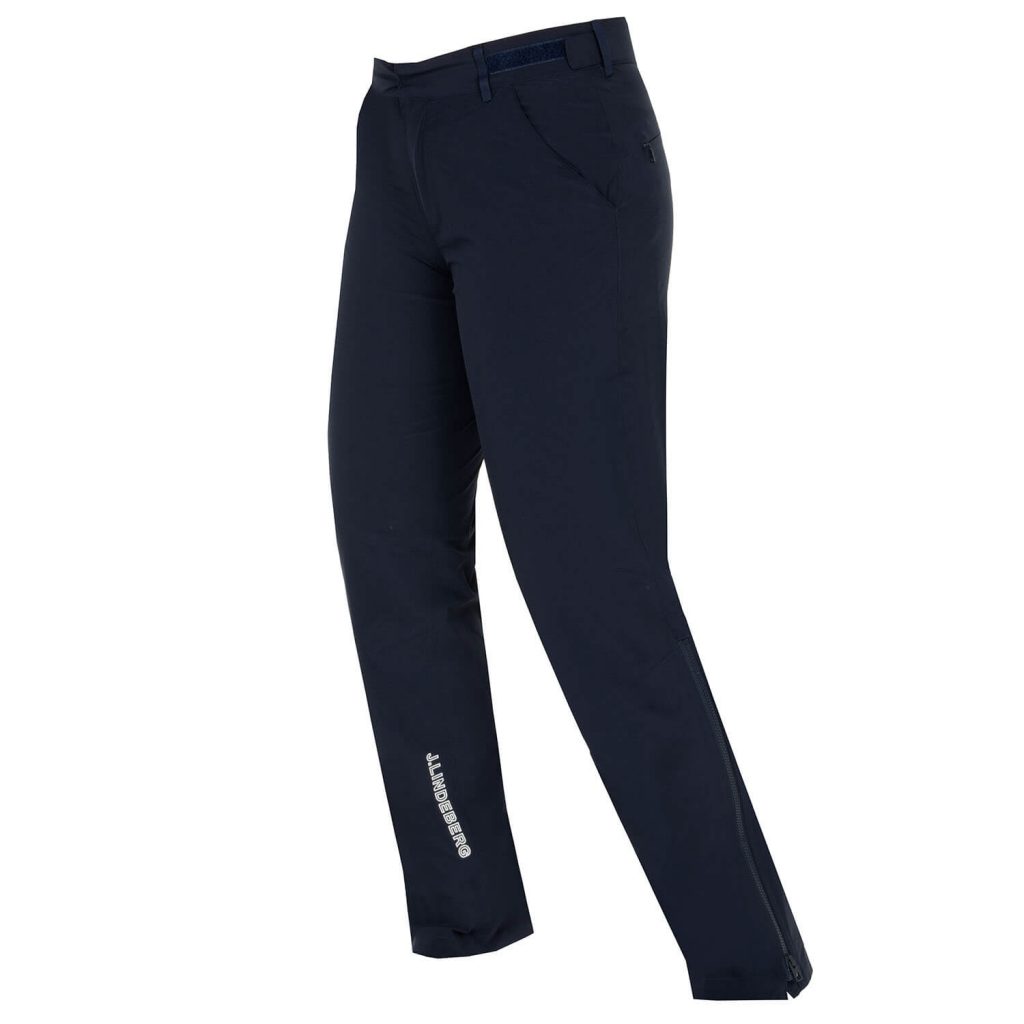 The premium fashion brand's Avery waterproof trousers are a modern offering designed with performance and style in mind. Like many other waterproof golf trousers, they feature a technical 4-way stretch design to enhance mobility, allowing you to move with freedom.
Meanwhile, the fully seam sealed construction provides waterproof and windproof protection. They're finished with a tapered fit, zippered hand pockets and a silicone 'JL' bridge rear logo for added style.
This garment is a perfect example of how waterproof golf clothing has moved on from the days of baggy, uninspiring designs. In fact, J.Lindeberg is a brand that's right up there where 'trendy' is concerned.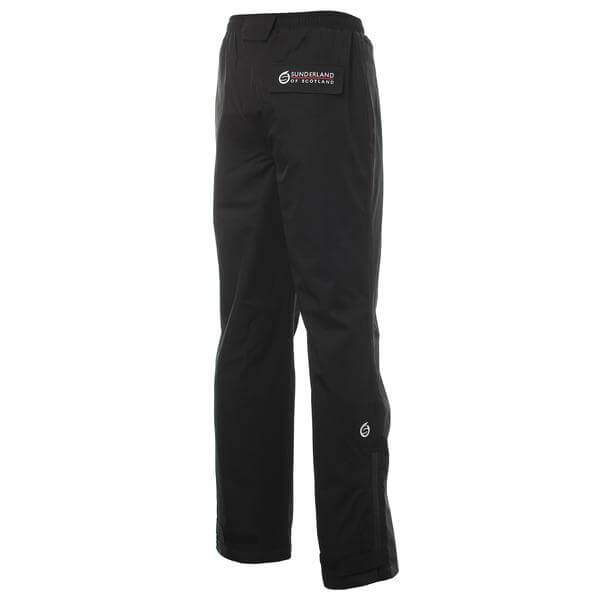 Constructed from a soft, NEVERWEATHERBEATEN protected fabric, these waterproof trousers will keep you warm, dry and comfortable in all conditions.
Established in 1964, Sunderland has a long history of creating high-performing wet weather gear, and it's no different with the Quebec trousers. Golfers demand a lot, especially in terms of comfort when playing in bad weather, so the half elasticated, cord-adjustable waistband and anti-snag velcro ankle adjuster are nice touches.
Talking of which, everyone will appreciate the fleece-lined hand warmer side pockets, while the articulated knees that provide additional support when crouching also boosts comfort levels.